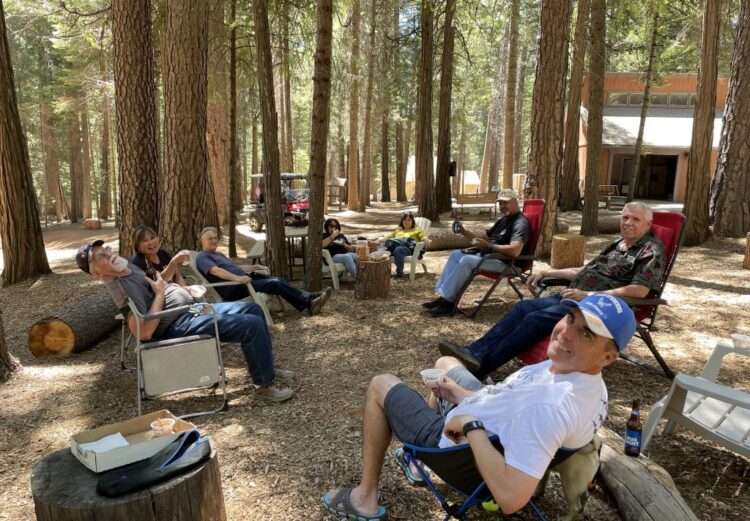 Some friendly faces taking a break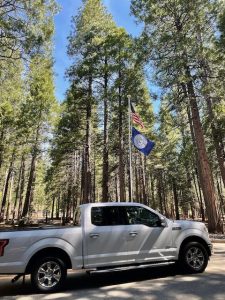 AFSFA-TBAC
Family Day 2022
Enjoy a day in the mountains with friends for lots of fun and good food.
Saturday, June 11, 2022
Corn Hole, Horse Shoes, Darts, Frisbee,
Tomahawk Throwing,
Golf Chipping Course
and More!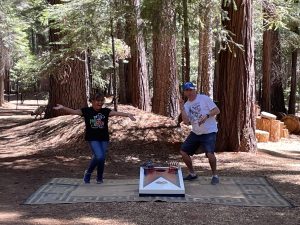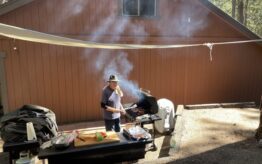 Just a Day ?
Or Overnight?
Lots of room for tents.
Plenty of places to roll out a sleeping bag.
Great hotels and lodges in Sutter Creek and Jackson.
Jackson Rancherio Casino and hotel 30 minutes away.
Food – Lots of Food
Brunch at 1100 – Scrambled eggs, pancakes, sausages, croissants, fresh fruit, plus coffee and juice.
Mexican Buffet at 1600 – Nachos, Chicken and Beef, Mexican Rice, Mexican Style Street Corn and Refried Beans. Plus…. Chips and Salsa.
FUN – Lots of Fun!
Lots of Fun and Games – Or just hang out and enjoy lively conversations, plenty of laughs and a few tall tales.
Details
2022 AFSFA-TBAC Family Day
This is an RSVP Event
The event is being hosted by Jim and Jean Downey at their property in Pioneer, CA. The property is less than 2 hours from Vacaville and at 3700 Feet Elevation.
The property is 2.5 acres of land with lots of pine and cedar trees and a few other types. Wildlife is plentiful and includes birds, squirrels, rabbits and lots of birds. We're visited by wild turkeys, deer and the occasional fox and coyote. There are bear and mountain lions in the area and very seldom spotted.
• OVERNIGHT ATTENDEES – The property does have a couple places to park a small RV but it can be tricky getting into those spots because of the trees. The one open spot has already been claimed as is the one extra bedroom. There is lots of room to pitch a tent. The room above the garage has a leather futon and room for sleeping bags. The garage is also available for sleeping bags as are other locations wherever you can find a spot. We do have a blow-up bed but we prefer to reserve it as safety net in case someone happens to not be in a condition to safely drive home.
LOCAL LODGING –
There are lots of places to stay locally if you prefer.
You can do a Google search for lodging in Sutter Creek, Jackson, Pine Grove and Plymouth. There are a number of campgrounds in the area too, some with cabins.
• FOOD
Food is being provided. You're invited to bring Fruit, Juice or Dessert if you wish. Due to the high cost of things at this time we'll have a donation bucket out if you're so inclined and suggest perhaps $3-$5 per adult.
• DRINKS
Water, hot tea and coffee will be provided.
• We ask that you bring whatever soft or adult beverage you like.
• RSVP and LIABILITY RELEASE
Please complete and submit the RSVP Form and download the Liability Release Form and bring it with you to the event.
TBAC Liability Release – Click Here