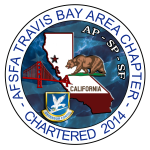 Chapter Meetings
• Chapter meets 0900 – 2nd Saturday each month
• No military ID required for access
• Fairways Bar and Grill
Cypress Lakes Golf Course
5601 Meridian Road
Vacaville, CA
Chapter Officers
Chairperson
Steve Andrus, TSgt (sep)
Vice Chairs
Melvin Greene, MSgt (ret)
Secretary
Lloyd Edwards, TSgt (ret)
Treasurer
Sylvester (Sly) Morris, MSgt (ret)
† Chaplain
Ron Armenta, MSgt (ret)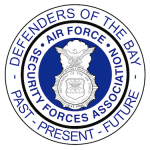 About the AFSFA – Travis Bay Area Chapter
Membership is open to anyone who has served honorably in the Army Air Corps MPs, Air Police, Security Police, or is now serving in the Security Forces career field–or that component of the Air National Guard, Air Force Reserves, IMAs, or DoD police officers. As the only professional organization serving all Air Force Security Forces from all eras and wars, we have membership levels for all whose Bond of the Blue Beret runs strong.
Travis Bay Area Chapter operates under the umbrella of the Air Force Security Forces Association. AFSFA is a 501(c)(19) – Veterans' Organization. Donations to AFSFA are deductible as charitable contributions on the donor's federal income tax return.
Travis Bay Area Chapter was established to further the goals and objects of AFSFA. In doing so, the chapter provides and central point where those that are serving, or have served, can come together for support and camaraderie. At the same time chapter members engage in a host of activities and programs that support our active duty and reserve squadrons.
Travis Bay Area Chapter Supports Members and Families of
• 60th Security Forces Squadron
• 349th Security Forces Squadron (Reserve)
• Associated Security Forces Personnel on Travis AFB
• Associated 1st Responders at Travis AFB
AFSFA Goals and Objectives
There is a distinctive relationship among the many men and women who have served or are serving in the Air Police, Security Police, or Security Forces career field. Some call it the Bond of the Blue Beret. Some of our more senior members recall the days of the Sam Browne and the Air Police brassard. Whatever the tie, our members share a sense of responsibility for and a vision of the future of this career field.
We all understand the benefits to be derived from remembering the past while contributing to the future by belonging to and supporting this organization.
Our focus if on fulfilling what we consider to be the most important goals and objectives:
• Honoring the Past
• Recognizing the Present
• Preparing for the Future
---
TBAC Request Form
AFSFA Travis Bay Area Chapter supports Security Forces Activities.
Travis Security Forces DAs, Commanders and Chiefs may submit requests for funds or in-kind donations to TBAC. Request forms must be received by TBAC two (2) weeks prior to a scheduled meeting in order to be placed on the meeting agenda. Emergency Requests may be submitted by the unit Commander or Chief at any time. The form is provided in Word format and PDF.
Travis Bay Area Chapter operates under the umbrella of AFSFA
and is a 501(c)(19) – Veterans' Organization.