Documents
Chapters develop documents and items for local use.
Travis Bay Area Chapter is happy to share these with other AFSFA chapters.
Feel free to download as needed.
• AFSFA Corn Hole Score Card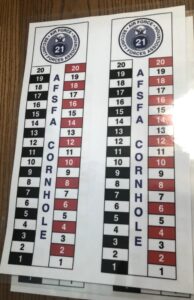 TBAC developed the AFSFA Corn Hole Score Card / Board to be used with the corn hole boards donated to 60SFS. TBAC purchased 2 sets of boards from Costco. The boards are nicely constructed but already have graphics on them. We covered most of the animal graphic with white paint and then added the large 12 inch AFSFA logo that's available from the Country Store. We let the paint dry for a couple days before adding the logo. We then taped the edges and painted the top with clear coat.
Scoreboards – There are many ways to deal with the scoreboards. The download version is printed on 11′ x 17″ heavy paper and then laminated on both sides. This can be done inexpensively at a store like Staples. The individual cards can then be cut. The card can be mounted using double-sided tape to just about anything and mounted to a stand. Depending on the use and abuse, you must decide what's best. We've made custom boards for ourselves and mounted the scoreboards to heavy plastic sheets with double back tape. We purchased an inexpensive music stand from Amazon, removed the top and mounted the board to the stand. You can do a web image search and find all kinds of scoreboard stands.
Scoring can be done with a couple clothes pins or any type of clip.